#TrueStory DO YOU SEE THE SAME COKE BOTTLE ON THAT BILLBOARD THAT I SEE? At age 6 Carmen pondered this REALITY-QUESTION, while walking to school with her Nanny, as Magritte did at age 30 in his studio. Both changed the world: Carmen, as PhD educator; Magritte, as famous artist. pic.twitter.com/nEkSOHuBBV

— Robert Harris PhD (@viewshift1) July 22, 2019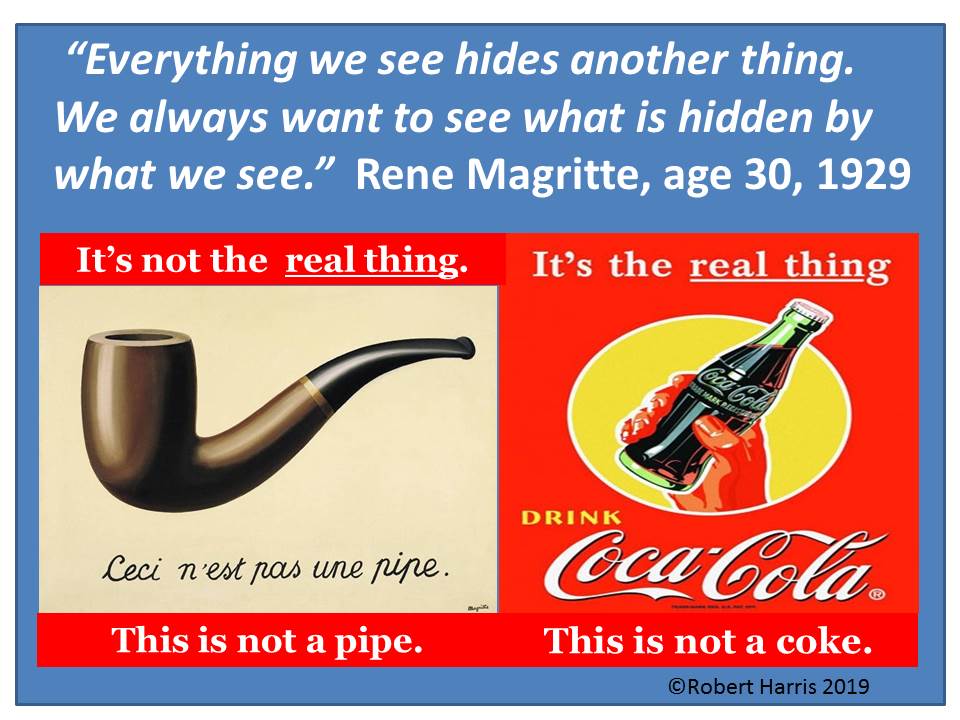 A child's "WONDER" reveals possibly the most pervasive conflict in human history: What is REALITY? Is it OBJECTIVE (separate & the same for everyone), or; SUBJECTIVE (private new perceptions in each mind). This binary mind-set formed early in our cave home: EAT or be EATEN! pic.twitter.com/1kIkIRu5BH

— Robert Harris PhD (@viewshift1) July 29, 2019
Reality is learned through our 5 senses. "Objective" came from recurring experiences & gradually transformed into a "yes/no LOGIC of "THINGS," which morphed into SCIENCE. "Subjective" came from unexplained leaps of "IMAGINATION," which morphed into ART. https://t.co/z8oOFX54vh pic.twitter.com/sdYoCTEsVM

— Robert Harris PhD (@viewshift1) July 29, 2019
Einstein converted physical OBJECTS of REALITY (planets, light) into his subjective ideas of reality (relativity, quantum theories) as SCIENCE; Magritte converted his SUBJECTIVE IDEAS of REALITY into arrangements of everyday objects of (pipes, people) as revelatory art. GENIUSES!
Einstein (like SCIENCE) is provable by experiment until it's not. Magritte (like ART) is enlightening until it's not. Both are opened-ended, Art more than Science. Both are precise, Science more than Art. Both operate on a bi-direction arrow of TENSION keeps each moving forward.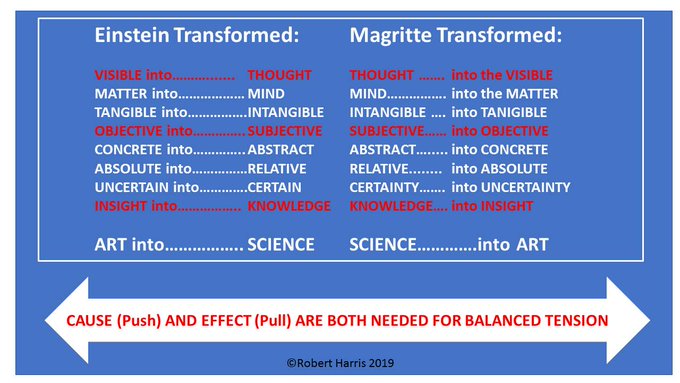 IMAGINE UNIVERSE AS EXPANDING SPHERE. OBJ & SUBJ patterns fit as one into Pirsig's MOQ open framework. MOQ is a better way to understand all of REALITY & deal with it. Pirsig mentored me from 1991. OBJ=1 & 2 and SUBJ=3 & 4 in my MOQ graphic. More coming.
metaslog.com/2017/06/09/rem…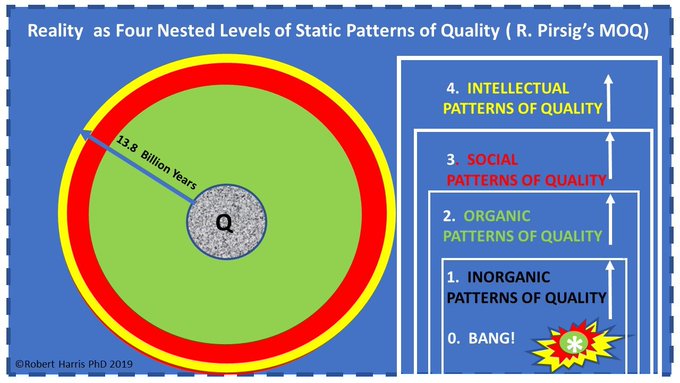 #TrueStory
ABOUT MENUS: Professional Philosopher says to me: "Metaphysics is a restaurant with 30 thousand items on its menu, but NO FOOD!!" Professional Athlete says to me: "SPORTS has the shortest menu of all – WIN or LOSE!!" Bada Bing; Bada Bing! (Subjective vs Objective)